House Concerts are our favorite way to connect with our audience. In this intimate listening room setting, (your living room, family room, deck, etc.) you and your friends gather to enjoy live original music by professional traveling musicians. It can begin with a potluck dinner or finger food or dessert before finding a comfortable place to sit for your own private concert. It's like a party with a concert in the middle. But unlike a party, a house concert is centered around the performance. Your friends will think that you are incredibly hip for creating an amazing concert venue that doesn't involve driving downtown, buying expensive tickets for the best seats, and possibly paying for overpriced beverages or drink minimums.
"Meet and greet" usually starts about an hour before showtime, with friends catching up, possibly sharing in a potluck dinner and, (depending on your comfort level) the beverage of their choice. Then we sit concert style for the first set, about 45 minutes or so, followed by a 20-30 minute break with more nibbles/beverages, and finish the evening with a second 45 minute set. All for a suggested donation of $10 to $15 per person (kids free). If your weekends are filled to the brim, you might consider an earlier, weeknight concert. These involve one set instead of two, with the "mingling" time after the show, which allows your friends to be home by 9:00 on a weeknight.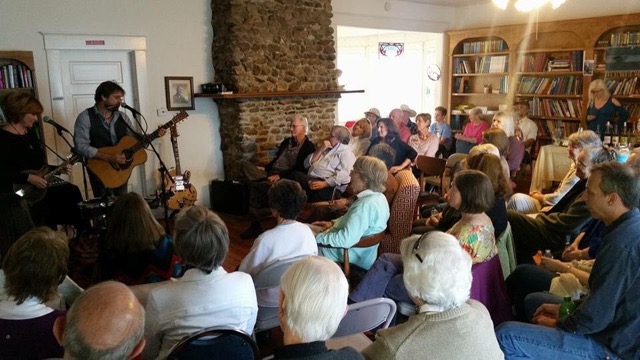 Sound like fun? We think so, and we would love to play in YOUR living room! Really.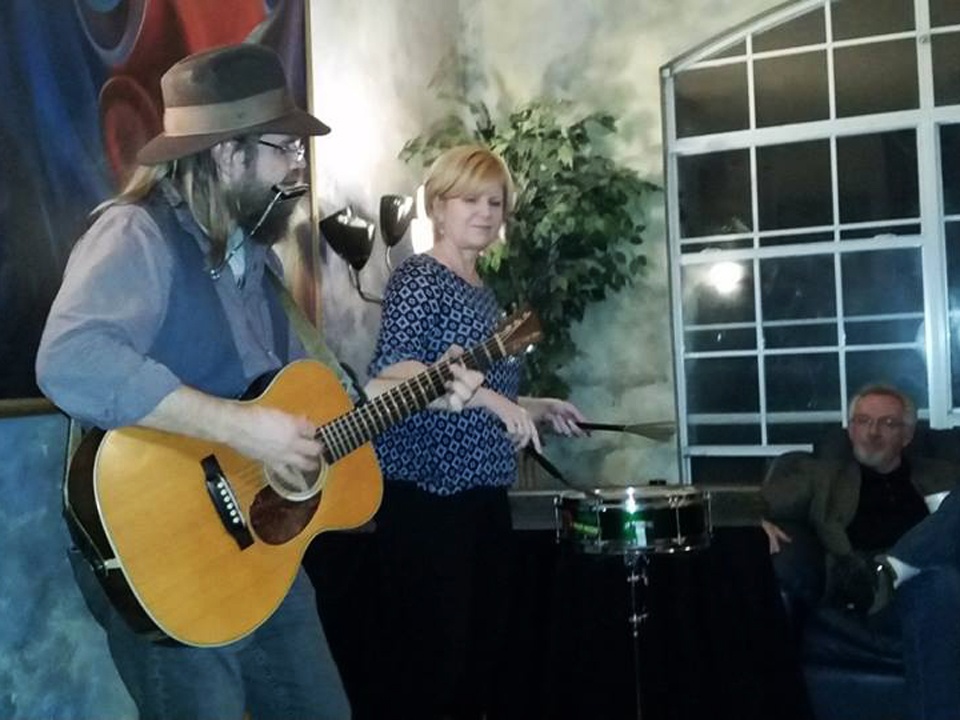 It's simple. You invite friends, family, neighbors, co-workers, the mailman and whoever else, to a concert at your home. (We'll even supply you with a blank flyer for making your own special invitations.)
Find a corner or other space in your home that would work as a small stage. Round up all your chairs, and arrange them concert style. Depending on the number of guests, it may help to move stuff around a bit. Small living room? That's okay – we love up close and cozy.
We've played house concerts for as few as 6 people, and as many as 75, but the average is around 25. Asking your friends to bring a dish to pass and (if you're comfortable with it) allowing BYOB takes all the pressure off of you to provide refreshments. We carry special lighting, if needed, for that "concert stage" ambience and you will be amazed at how well your living room can transform into a concert venue!
I can't charge my friends money!
No problem! Although many house concert hosts collect the fees as guests arrive (or delegate someone else) some hosts are uncomfortable "charging" their friends, especially for a first concert. For these hosts, we suggest simply placing a basket/hat by the entry in a can't miss location with a sign that reads:
Suggested Donation $10-$15 each
All proceeds go to the artists
Also, a mention of the donation concept, and the fact that all proceeds allow the artists to pay for gasoline, food, lodging and other expenses that come from touring for a living, should be explained before the show starts. This in combination with the presence of a donation "hat" ensures that all guests make a contribution, while allowing you to stay out of the money collection process.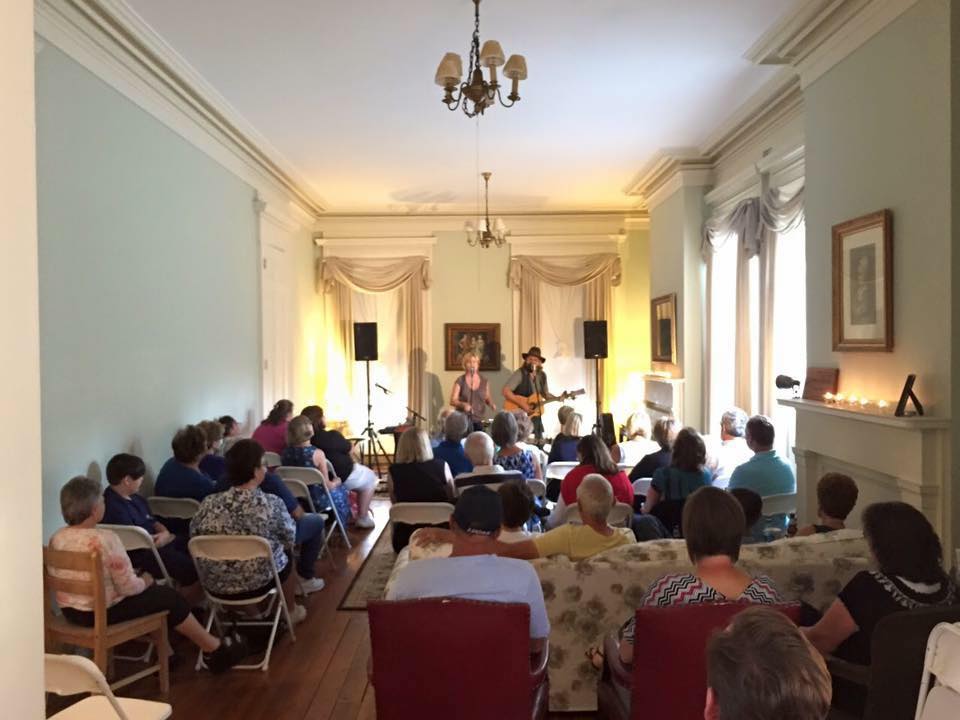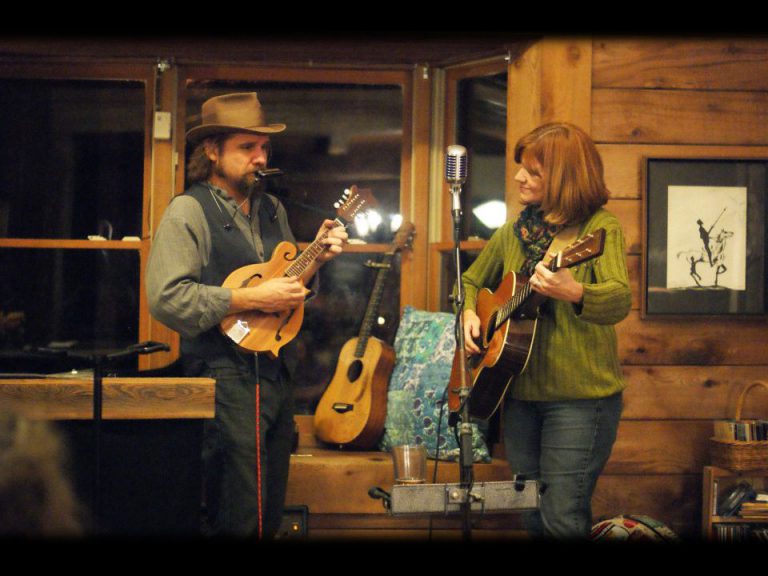 Where do I sign up to host a house concert?
We'll do our best to work your house into a tour, no matter where you live! By hosting a house concert, you are supporting the arts and helping to keep the tradition of the traveling musician alive and thriving. You're also helping to sustain us with gas money, food, a place to sleep (if available) and most of all, the opportunity to meet and connect with our audience in a very personal way.
THANK YOU!!!
Roy and Kim were a delight. They are true professionals. Their music performance was flawless. Roy's songwriting is so beautiful and his stories before each song added depth and meaning to the lyrics. As house guests they quickly became friends. They are easy to accommodate and very comfortable to be around. Our audience loved them. Book them if you can!
Roy Schneider and Kim Mayfield continue to amaze and embody the Americana genre. They appear in my living room once a year and always make it seem like the first time with new songs (and old favorites with new twists), enthusiasm and expertise in a house concert setting. Seeing them perform never gets old, and they are pros at pre-concert communication. I'm already looking forward to 'Same time next year!'
Roy and Kim were fantastic with great playing and singing with lots of upbeat songs. We were so pleased with their change up of instruments and song types. Roy is a great songwriter and talented guitar picker. Kim was not only great accompaniment, but a talented musician and singer in her own right. They were so engaging that our audience gave them a standing ovation at the end! Easy to work with and so appreciative, we look forward to having them back!
If Roy comes by, you are in for a fabulous night! Talented guitar work and beautiful engaging voice. Foston loves Roy and we can't wait for his next UK tour. A wonderfully entertaining evening with music and conversation.
Roy and Kim came back for the second time and again put on a great show. Originals, covers, harmonies all professionaly done, completely engaging the audience. Once again, the booking was easy and straightforward. Roy and Kim are the kind of folks you like to hang around, plus they make amazing music together. We had another house guest, a young man from Spain, who is learning guitar and Roy took time to teach and play with him. We look forward to their return next year!
Roy (and Kim) provided us with a wonderful evening of music. His interactions with the audience enhanced the show beyond belief. I highly recommend any host to invite Roy in for a show. The folks who attended were asking him to return next year. Communication in advance of the show made all arrangements easy, and everything went effortlessly. The show was excellent, as we had many young people at this show, and they enjoyed it. They were excellent house guests. Hope to see them again soon.
Roy (and his wife Kim) put on a great show. There is a very nice variety to his songs, he plays with gusto and excellent technique, and Kim adds just the right harmonies and accompaniment. His music deserves a wider audience, and I'd highly recommend him. We heard some songs off his forthcoming album, which should be a good one! They were also very kind people and pleasant house guests.
We and our invites loved Roy and Kim's performance. Delightful evening that held true to the description of Roy's music...Master talent of the guitar and song writing. I spend my time now listening to Roy's Erleichda CD...Most excellent!
Roy Schneider and Kim Mayfield were great! I would host them again in a second. They were professional, kind, and have a great sound and stage presence. The audience responded very well to Roy's upbeat stories and songs. We really enjoyed meeting them!
Roy played at our house this past spring. He was an easy artist to accommodate, and he put on one heck of a show that evening as well. His mix of humor and sincerity went a long way with our crowd, and we were very happy to have him at our house.